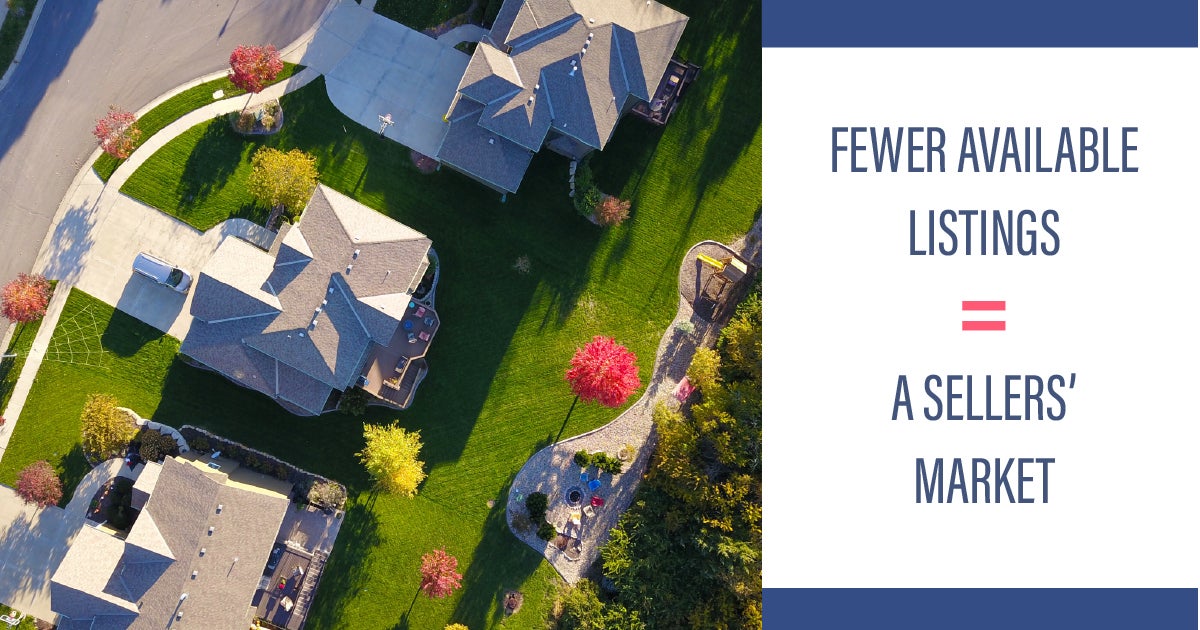 The New Normal: A Strong Housing Market Expected to Continue into 2021
Circumstances like a once-in-a-hundred-years pandemic and historic inventory shortages might have made you assume that the housing market would lose steam, but there is plenty of evidence to the contrary. As Canadian Real Estate Association (CREA) senior economist, Shaun Cathcart noted, "records [are continually] being broken" in the residential property market.
1
Indeed, rather than a slowdown, we are continuing to experience a surprisingly robust real estate market across the country. And experts estimate that these conditions are likely to last into the new year. TD Bank Group Economist Rishi Sondhi predicts that high home prices will persist for the rest of 2020.
2
Market conditions like fewer available listings, changing criteria for desired homes, and record-low mortgage rates are changing the way people buy and sell homes, most likely in a lasting way. But this sustained activity, even in the uncertainty that is 2020, proves Canadians still view real estate as a sound investment. The only question now is how you can take advantage of the housing market's "new normal." In this article, we'll explain everything you need to know to achieve your goals.
FEWER LISTINGS EQUALS A SELLER'S' MARKET
Inventory, meaning the number of homes for sale, is at a record low across the country.
According to statistics from RBC Economics, the majority of Canada is experiencing tighter demand versus supply conditions than the country has seen in nearly two decades.
3
And at the end of September, there were just 2.6 months of inventory on a national basis. That restricts supply, which increases prices if demand remains unchanged.
4
There has been a bit of relief in terms of inventory. New-home construction hit levels in August that the country had not seen since 2007, but then waned somewhat in September with housing starts down in eight of 10 provinces.
5
Doug Porter, chief economist at Bank of Montréal, also predicts some "building headwinds" that will further cool the influx of new inventory coming on the market.
6
Fewer listings creates a housing market that is advantageous for sellers for several reasons. For one, buyers have to act fast to snap up available homes. The median number of days listings now spend on the market is 26 days.
7
Another benefit is that sellers are enjoying higher net returns on their listings. This is thanks to the tough competition for homes, which often results in bidding wars between buyers. The average price of a home sold on the Canadian Real Estate Association's (CREA's) MLS service went for a record $604,000 (17.5% more than last year).
8
Continued home-price growth is anticipated for the remainder of the fourth quarter, and the median national home price is expected to rise 7% over last year.
9
This sellers' market is not simply a product of the pandemic. In fact, Cathcart cited the steady decline in home inventory over the past five years—not COVID-19—as the cause for higher prices. "Heading towards records and record type conditions was something that we had already expected for 2020," he said. This means that even if construction was to ramp back up, buyers can't simply wait for things to go back to normal before reentering the market. Rather, all signs indicate that this is the new normal.
10
What It Means for Homeowners:
These higher home prices show that buyers are willing to spend more on a home right now than they did last year. So, if there ever were a time to list for top dollar—and expect to receive asking price quickly—that time is now. Ask us for a free consultation of your home's value today.
What It Means for Homebuyers:
Due to low inventory, buyers could easily find themselves in a bidding war. Time is of the essence in a seller's market, so you'll need to get your financing in order and be preapproved for a loan before you begin your home search. We can connect you with a trusted mortgage professional to get you started.
BUYERS BENEFIT FROM LOW MORTGAGE RATES AND A BIGGER PLAYING FIELD
Don't worry, homebuyers. This "new normal" of real estate has benefits for you too.
For example, people used to base their next home purchase on how far the commute was to work or in which public school district it was. But now, thanks to the pandemic shifting the locus of jobs and work, they are free to consider what they need from a home to make it a place they really want to work, teach, exercise, cook, and live.
Often, this equates to needing more space in different types of areas. The search for these criteria is driving residents out of densely populated metropolitan areas and into the suburbs.
11
And this exodus from cities is good news for buyers: it opens up more possibilities for inventory that they could not have considered pre-pandemic.
Another advantage for buyers is the record-low mortgage rates. The average five-year fixed rate fell to a record low of 1.99% in September, down from 3.04% at the end of 2019 and 3.74% at the end of 2018.
12
Thanks to these rates, buyers are afforded the opportunity to buy much more home than they could before. Consider this example. If a buyer can afford a $500,000 home by putting $120,000 down (25%), the monthly payment on a standard 25-year mortgage would be $2,210. Conversely, with a lower rate (say, 2.8%) that buyer can now afford a $600,000 home—$100,000 more purchasing power—at a cost of only $12 additional per month.
13
The good news is that interest rates are not expected to rise anytime soon—and may hover at these record lows until 2023.
14
What It Means for Homeowners:
If you're locked into a higher fixed-rate mortgage for the next several years, you're probably wondering if it's a good idea to refinance. With those additional funds, you could even choose to invest in a second home in a new desirable location. Reach out to us for a referral to a trusted mortgage professional or an agent in those markets.
What It Means for Homebuyers:
The time is now to determine how much home you can comfortably afford and make a plan to find it. We can set up a search for you to find homes that best meet your new needs, even if they're in neighborhoods you wouldn't have considered before.
A RECORD-SETTING YEAR FOR HOME SALES IS JUST THE BEGINNING
Despite the seemingly adverse buyer conditions, 2020 experienced a record-breaking number of home sales. According to CREA, home sales activity jumped 46.5% year-over-year in September. With an additional 20,000 transactions logged, it was the busiest September thus far. Moreover, "[m]any Canadian housing markets are continuing to see historically strong levels of activity as we enter into the fall market of this very strange year," CREA chair Costa Poulopoulos said in a statement.
15
Part of the reason for these continued sales is that the pandemic has created a paradigm shift in the patterns of real estate. For example, housing needs are typically resolved by late summer and early fall to coincide with the commencement of the new school year. With homeschooling and remote work, however, buyers have been freed to continue their home search into the traditionally slow winter months.
16
Another reason for the robust market is that household savings grew to 28.2% of household income during the pandemic, an extraordinary level that Statistics Canada said the country has not seen since the 1960s.
17
Canadians who were able to keep their jobs, as well as those on unemployment, have evidently made growing their savings a priority. And it seems as though Canadian homebuyers are using that cash on real estate.
18
All this indicates that the housing market is in a strong position heading into the new year. So though it looks different than it ever has before, it's clear that consumers consider real estate to still be a good investment. The coming months should provide more clues about the market's direction in the year ahead, such as whether low interest rates and changing housing needs can keep demand levels high, or whether the exhaustion of pent-up demand will cool things off.
What It Means for Homeowners:
It's tempting to believe that homes will basically sell themselves in a market like this. But we're still seeing properties that are overpriced and under-marketed sit unsold. We can help you optimize the process of selling your home so you can get the best possible offer.
What It Means for Homebuyers:
Preparation is key to success in a sellers' market like this, but don't let yourself become paralyzed. We are here to answer your questions and offer sound advice to guide you through all the options that are available to you.
I AM HERE TO GUIDE YOU
National real estate numbers can give us a pulse on the market, but real estate happens in our own backyard. As your local market expert, I can help you understand the finer points of the market that impact sales and home values in your own neighborhood.  
If you're considering buying or selling a home before the new year or in early 2021, contact me now to schedule a free consultation. I'll work with you to develop an actionable plan to meet your goals.
Sources:
1. Georgia Straight -
https://www.straight.com/news/canada-real-estate-wildcard-dealt-by-covid-19-cited-as-september-home-sales-rise-46-percent-for
2. TD Economics -
https://economics.td.com/ca-housing-update
3. RBC Economics –
https://thoughtleadership.rbc.com/canadas-housing-market-got-hotter-in-september/?utm_medium=referral&utm_source=economics&utm_campaign=housing
4. Yahoo Finance -
https://ca.finance.yahoo.com/news/canada-hot-housing-market-face-123440993.html?guccounter=1&guce_referrer=aHR0cHM6Ly93d3cuZ29vZ2xlLmNhLw&guce_referrer_sig=AQAAAGHiUEUct_rnoOGtMbgsdPAv19LqiVnyNdbRS7x1wd0nV1AhnSvhBGStr7JEhs-CdHhox09OQK3PMK0rIoBlg5teQ5KJkW-P8az0s9FQXdiLKmpSEuIYlsGJ_1n5WMT-qvpkTVZkBWnm0xmajN2uiMY3sawaxMqiMpTbO2boIJXW
5. CTV News –
https://www.ctvnews.ca/business/cmhc-reports-annual-pace-of-housing-starts-in-canada-fell-20-per-cent-in-september-1.5137771
6. Financial Post –
https://financialpost.com/pmn/business-pmn/growth-in-canadian-home-sales-slows-amid-record-tight-supply
7. Zolo -
https://www.zolo.ca/
8. MSN Money - https://www.msn.com/en-nz/money/personalfinance/canadian-home-sales-set-record-for-september-up-456percent-from-last-year-crea/ar-BB1a3uIq
9. BNN Bloomberg –
https://www.bnnbloomberg.ca/real-estate/video/expect-strong-canadian-real-estate-market-in-2020-royal-lepage~1861392
10. Halifax Today –
https://www.halifaxtoday.ca/local-news/high-real-estate-prices-not-solely-due-to-covid-canadian-real-estate-association-2800942
11. Global News -
https://globalnews.ca/news/7392667/real-estate-canada-suburbs-commutes/
12. Financial Post - https://financialpost.com/executive/executive-summary/posthaste-canadas-home-prices-to-rise-12-by-the-end-of-2022-economists-predict/wcm/5f31b866-57a9-4ecf-90aa-65aa6ffbe02c/amp/
13. Yahoo News –
https://ca.news.yahoo.com/average-house-price-continues-defy-133115838.html
14. Bank of Canada -
https://www.bankofcanada.ca/2020/10/fad-press-release-2020-10-28/
15. CREA –
https://creastats.crea.ca/en-CA/
16. PwC -
https://www.pwc.com/ca/en/industries/real-estate/emerging-trends-in-real-estate-2021.html
17. The Globe and Mail –
https://www.theglobeandmail.com/investing/personal-finance/household-finances/article-savers-stashed-127-billion-in-2020-it-may-just-rescue-the-economy/
18. CBC/Radio Canada –
https://www.cbc.ca/news/canada/british-columbia/ting-column-sept-18-1.5730878